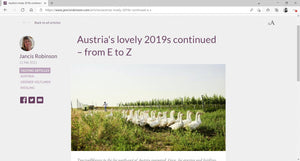 "One of the most exciting wine producers anywhere!" - Jancis Robinson
"KERPOW!"
Jancis Robinson, the Grande Dame of Wine, has tasted our current wines and was truly impressed!
"...The 2019 vintage in Austria is clearly stellar. I have therefore been much looking forward to tasting the 2019s from two of the most ambitious producers in Austria's Weinviertel...
... I'm presenting the wines of Ebner-Ebenauer and Herbert Zillinger in alphabetical order but I have to say that I am absolutely amazed that no major US or UK importer has picked up the wines of Zillinger, one of the most exciting wine producers anywhere. We have been featuring them since 2015 and the wines are better every year. From the 2017 vintage they have been certified biodynamic under the umbrella of respekt-BIODYN. And it's not as though the wines are expensive. ...
...They have extended their vineyard holdings to 15 ha (37 acres) in both Ebenthal and Ollersdorf and the style of the wines has been becoming increasingly natural ', as you can read below. But the wines have none of the drawbacks of some natural wines. They have been made slowly, allowed to fall brightly over time, and are truly expressive. ...
...
Zillinger added, 'our wines are all bottled unfiltered, which gives them the last ticks of liveliness and esprit. I think that, thanks to the great and extremely uncompromising (long-term) work of our entire great team and with the 2019 vintage, we were actually able to produce a really great vintage. For us, this is a palette of natural wine in a very clear and beautiful style: a kind of new classic. In a noisy, overstimulated and crazy time, this future-oriented and solution-oriented (especially on climate change and terroir thinking) way of working and the resulting calm wine types suit us very well. '
These are brave words and could read like empty marketing promises but the proof was in the bottles - all screwcapped and all regular weight. ... "
You can find the full article with all tasting notes here.
---